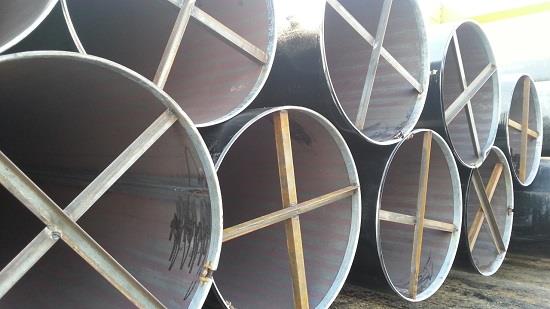 Add to Favorites
Share
SAWL Water Pipe
Payment

Origin

China Mainland

Minimum Order

1

Packing

Pieces
Product Detail
1. Product specification:
O.D.: ?406.4MM~?1422.4mm(16-56in)
Length: 3M~12.3m
W.T.: 8MM~50mm (apply to simple carbon steel, Low carbon alloy steel);
Product Standards: ASTMA53 GR.A/B/C,AWWA
Assurance: API/ISO quality system. SGS, DNV, BV, Moody third party inspection are welcomed.
Annual Output: 150,000 tons

2. Application:
Used for low pressure liquid delivery, such as water, gas, oil.

3. Coating Standard:
DIN 30670/NFA 49-710 /ISO/DIS 21809-1/BP GIS 06-403/CAN/CSA Z245.21 etc./DIN30678
API RP 5L2/AWWA C210: /NFA 49-709 etc.
Coal tar epoxy glass cloth pipe coating. Standard: GB50268-97 SY/T0447-96 etc.
IPN8710 polymer coating steel pipe corrosion: Non-toxic and drinkable water lines
Coal tar epoxy paint, chlorinated rubber anti-corrosion coatings.
ANSI/A21.4 American national standard for cement-mortar lining
DIN30670 Polyethylene coatings of steel pipe and fittings
ISO21809 Petroleum and natural gas industries-External coating for buried or submerged pipelines
AWWA C213 Standard refers to:
ANSI/AWWA C203: Standard for Coal-Tar Protective Coatings and Linings for steel water pipelines-Enamel and Tape-Hot Applied.
ANSI/AWWA C209: Standard for Cold-Applied Tape Coatings for the Exterior of Special Sections, Connections, and Fittings for Steel Water Pipelines.
ANSI/AWWA C210-Standard for Liquid-Epoxy Coating systems for the Interior and exterior of Steel Water Pipelines.
ANSI/AWWA C214-Standard for Tape Coating Systems for the Exterior of Steel water pipelines.



3
YRS
Hebei Allland Steel Pipe Manufacturing Co.,Ltd.
China
Favorites